I think everybody knows Kristen Stewart as one of the few young celebrities who, despite the pressure of being in the limelight, just love being herself. And I love that she doesn't let anybody take that away from her. She may be a rebel type and may have made bad decisions (who doesn't!) in life at a young age, but it doesn't stop me from adoring her so much.
When it comes to red carpet look, I'm her biggest fan. But what I love even more is her reputation of defying the red carpet fashion trends by trading fancy Louboutin heels to comfortable sneakers, especially Converse sneakers.
At the 2012 MTV Movie Awards, Kristen posed for the red carpet wearing a pair of Christian Louboutin stiletto and later changed it with a pair of black low tops All-Star Converse shoes.
Kristen posed for photo op at 2012 Toronto International Film Festival promoting her film On The Road in heels and later was photographed wearing black wedge Converse sneakers.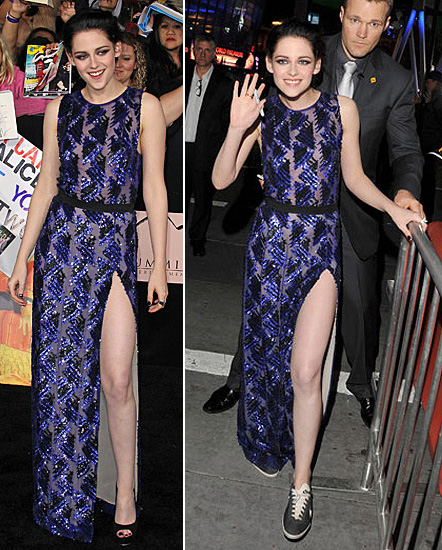 Kristen was wearing a purple beaded slit gown paired with black platform heels at the LA premiere of Breaking Dawn Part 1. Later she was seen wearing a pair of Nike sneakers.
I'd say good job Kristen, for staying true to your style and for not trading comfort over anything!